A few significant shifts in the TV industry are taking shape as the new year approaches. Despite the fact that consumers aren't clamouring for them, 8K TVs will likely be more widely available, and there will also likely be some advancements in LCD TV innovation that can assist the sets in overcoming some of the technology's fundamental flaws.
TV screens are becoming bigger and cheaper
Remember when a 50-inch television felt enormous? Due to the epidemic, there was even an increase in the percentage of sold below-55-inch sets as consumers acquired TVs for secondary areas in the household, such as bedrooms and home offices.
Now new, even larger TV sizes are starting to appear on the market! 65-inch TVs have already become a popular screen size in the United States and Europe, and analysts predict a growing number of 75 – 85-inch versions will be available at costs that many buyers wanting to splurge will be able to afford.
Looking at some statistics, 60- to 69-inch TVs, primarily 65-inch sets, will account for 18% of sales, up from 12%. The percentage of larger TVs, 70 inches and more will increase from 6% to even more than 10%.
Besides, the rate at which technology is changing is increasing rapidly – nowadays, a growing number of TV companies have begun to offer OLED TVs.
These sets will provide advanced voice control and integration with other intelligent devices in your home. This may lead to energy-saving solutions and more comfort, but it may also result in increased data collection by large tech corporations and their numerous partners. Could that be a downside of new technology? We think so. Votechnik is also looking closely at the data connected to how hazardous new versions of LCDs, OLED TV, and flat screens will be. Most importantly, we wonder what their impact will be on our health and environment.
Future of LCD recycling
An update in the technology will naturally lead to a decrease in CRT TVs and a growth in the prevalence of OLED TV technology over the next decade. What does it mean to the environment and the future of recycling?
We can expect that shortly, a growing number of LCDs and CTR TVs that have to be recycled will create the demand for proper disposal of e-waste, making it necessary to take action to protect the environment.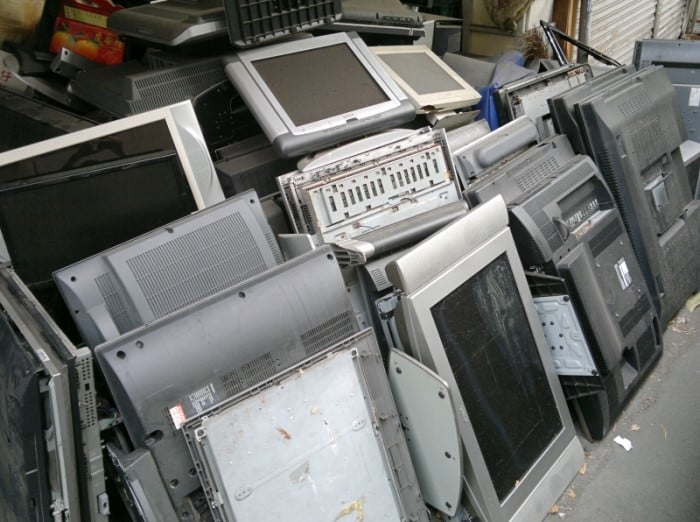 Sustainability – here is how big brands do it
With the production of thousands of devices every year, including TVs and white goods, Samsung is fully aware of how important it is to reduce the needless production of e-waste by utilizing closed-loop practices (processes which restrict waste from entering the already-overflowing landfills).
Subsequently, with the emergence of larger models of televisions in the market, Samsung has maintained its commitment to reducing e-waste by implementing these practices.
Their manufacturing aims to offer products with a greater lifespan. This will mean fewer users will be looking to dispose of old devices as quickly as they previously would. In addition, Samsung provides a fantastic LCD recycling facility and aims to reduce the number of components they use within their devices.
LG, a well-known name in the realm of televisions, provides a recycling program through their vendors. This program permits customers to take back their old LG devices to the same place they were bought. LG also works with their vendors to ensure the recycling process is carried out properly and is kept up to date with the latest regulations.
LG has made a significant stride in their commitment to protecting the environment in 2020 by using 20,000 tons of recycled plastic in the production of their new products. Their goal of 8 million tonnes of electronic waste being reused in their products by 2030 has allowed them to reduce the amount of raw plastic used in the production of 18 OLED models by 10,000 tons in comparison to the 14 models created in the previous years.
Sony sought to create products that not only would be more environmentally friendly by using recycled plastic, but also would have excellent quality and acoustics. Then, they had to find a way to make the recycled plastic look good as well. Unfortunately, using plastics with various constructs can affect the audio it produces and the color consistency of the material. According to Sony, using plastics with different colors can affect the sound of the material, as colors can impact the audio in different ways.
After years of careful research and product testing, they were eventually able to create a fully recycled plastic that still had the same acoustic harmony when used in speakers and TV frames.
Starting with their use of recycled materials back in 2010, they have continued to improve their efforts to reduce their dependency on plastic. They have achieved a remarkable 60% reduction in their use of virgin plastics over the past four years and they continue to strive to eliminate the need for plastic in their consumer products.
Knowing that sustainability and creating a zero-waste future is paramount, Panasonic have set up facilities throughout the world, focused on responsibly breaking down old technology for use in new ways. One such facility is located very close to their manufacturing plant in Japan, enabling a smooth transition from old to new. This means they can use these broken-down devices in more eco-friendly technology.
Panasonic has been quite successful in their waste management, achieving a 99% recycling rate in the past. To remain competitive, they are revisiting their e-waste practices and are aiming to adhere to the circular economy model – a common strategy among technology companies.Panasonic has seen great success in their waste management efforts, managing to recycle 99% of their materials. As a way to maintain their competitive edge, they are embracing the circular economy model – a strategy being adopted by many technology companies. Every item is closely evaluated before reaching the end of its life, with unusable products being sent to specialist recycling centers, where they can be incorporated into energy-saving projects.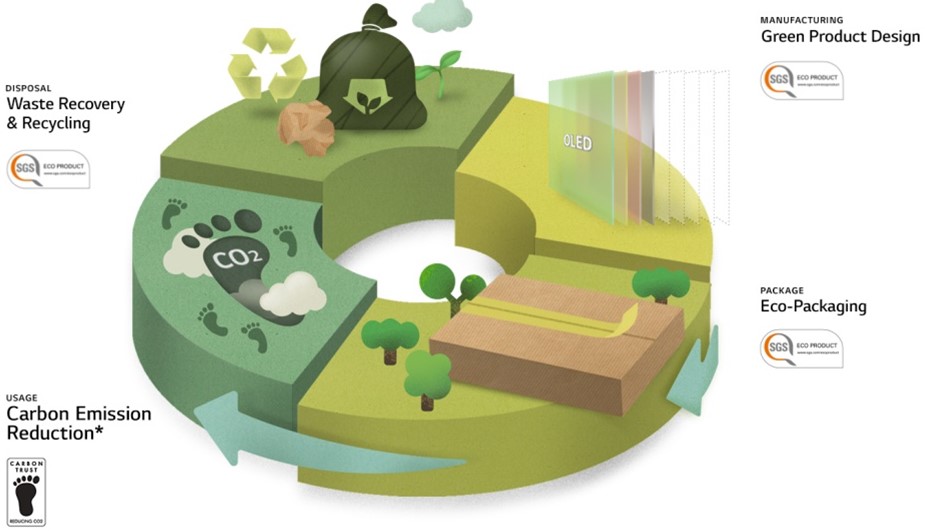 Conclusion
The environmental impact of discarded electronics is an ever-growing concern, yet these products also contain materials of significant economic value. If recycled properly, these electronics could offset the need for fresh mining and help maintain vital metal supply chains. Nonetheless, rapid advancements in the size and structure of electronics complicate their end-of-life management.Big brands already working on the best solutions for these challenges. Votechnik hopes to see others following their footsteps in achieving a more sustainable solutions to recycle e-waste.