A look into the rate at which municipal solid waste generation grows is alarming. With a staggering 2.01 billion of municipal waste generated annually and a predicted 70% increase by 2050, there's a need for a concrete measure of waste management. 
Electronic waste, however, stands at the forefront of the uptrend in waste generation. For example, it is estimated that around 80 million tons of electronic waste is generated each year, and over half of this is made up of LCD screens. Furthermore, it is believed that around 20 million tons of electronic waste are sent to landfills each year.
Countries have developed various waste management strategies. Waste recycling, appropriate disposal and treatment, legislation and associated electronic recycling laws, and other methods have been used to balance waste production and management. However, a more advanced waste management technology is needed to achieve a green planet.
Fortunately, digitalization has become a trend in handling electronic waste from LCDs, flat screens, monitor displays, and other devices. Digitalization has increased waste recycling speed and made it more cost-effective and error-free.
Therefore, this blog will look at the general overview of how digitalization has impacted waste management and the top 5 benefits of digitalization for the waste management sector. Finally, we will discuss the challenges facing the introduction of digitalization in waste management sectors.
The Introduction of Digitalization in the Waste management sector 
The global uptrend of digitalization in various sectors has found its way into waste management. Nowadays, electronic devices and LCD screens are used and recycled in many ways to ensure efficient and safe waste disposal. This way, a massive reduction in the amount of waste that goes to landfills is achievable.
Also, recycling electronic devices and screens is a better and more cost-effective option than throwing them away. You can help keep the environment clean by recycling these materials so they may be used again in other ways.
Furthermore, when making LCD screens, recycling is also crucial. There are a few components that aren't recyclable in LCDs. For this reason, the components of old LCD screens and gadgets may be salvaged and used to produce brand-new screens and devices.
Generally speaking, the use of digitalization in the waste management sector has been beneficial to both the environment and the economy. Reducing the quantity of waste that ends up in landfills and improving waste management are two benefits we reap from LCD recycling and recycling of electronic devices and screens. In addition to helping keep the planet cleaner, it's also a great method to reduce waste.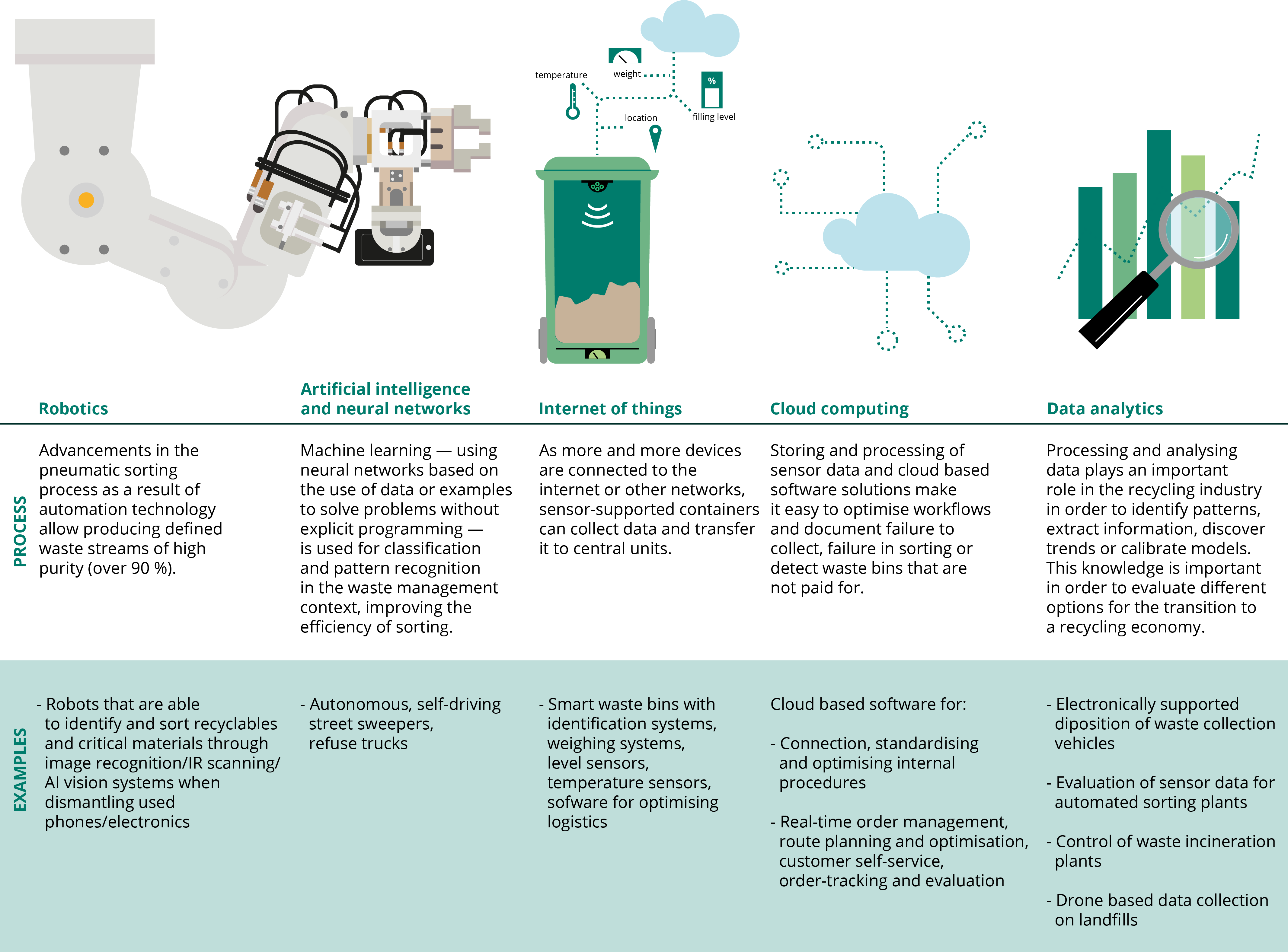 Top 5 Benefits of Digitalization for the waste management sector
The advent of digitalization has brought several positive changes to the electronic waste management industry. Some of the benefits that digitalization is bringing to the waste management business are automation, better recycling, better data collecting, lower costs, and more efficiency.
Automation is one of the primary benefits of digitalization in the waste management sector. The entire waste management process can be automated, from collection to disposal. Also, automation reduces manual labour, resulting in a more efficient electronic waste management system. Automation also helps reduce errors and delays, further improving waste management.
The use of digital technology has improved recycling efforts in the waste management industry. More electronic gadgets may be recycled and kept out of landfills if the recycling process for LCD screens and other electronic devices is streamlined. Recycling electronic equipment will help minimize waste and use fewer natural resources. In addition to reducing our ecological footprint, the increased efficiency and volume of electronic waste recycling centres is a boon to the planet.
Another positive effect of digitization on waste management is enhanced data collection. Easier waste tracking and analysis help pinpoint problem areas and gauge the efficacy of electronic waste management. This information may be utilized to streamline and enhance waste management procedures.
The use of digital technology in waste management can also save expenses. Because it requires less time and effort to handle waste, digitalization helps save costs in the electronic waste management process. Expenses for machinery, transportation, disposal, and more may be cut with digitalization in the waste management process.
Last but not least, digitization enhances the effectiveness of waste management. Improved efficiency in waste management is a direct effect of digitalization's increased capacity for real-time monitoring and management of electronic waste management activities. Because of this increased productivity, we spend less time and energy on waste management and disposal.
Without waste management, society would collapse. Digitalization has improved efficiency, data collection, and recycling rates, lowering prices. Digitization has simplified and greened waste management.
Challenges facing the implementation of digitalization in the waste management sector
While digitization has many positive effects, it has also presented certain difficulties for the waste management business. These challenges include the cost of implementation, unexpected occurrences, and security concerns.
Digitalization needs technical equipment, software, and support services for many waste management firms, which are capital-intensive. Also, new systems need training, new staff, and planned maintenance.
Despite careful preparation, waste management digitalization may bring unanticipated problems—data breaches, equipment issues, etc. Businesses need emergency plans and processes to respond quickly to unexpected events.
Digitalization raises security problems. Waste management data and systems must be secured due to the disposal of electronic equipment, LCD devices, and other electronic devices. This involves protecting data, preventing illegal access, and preventing hackers.
Digitalization is the future of Waste management!
The digitization of waste management procedures effectively lowers landfill loads and improves LCD recycling and composting rates. Also associated with digitalization include cost reduction and improved efficiency.
However, as with other innovations, the use of digitalization probes several challenges that call for concerns. This includes the cost of implementation and security concerns.
All in all, The benefits of digitalization outweigh the challenges. And for more effective electronic waste management, all stakeholders must ensure technology implementation in their waste management protocol.
Finally, We can do our part to ensure that materials are recycled responsibly while reducing the quantity of electronic waste created and disposed of by recycling LCD screens and other electronic equipment.