The world is shifting. Technology is changing. Everyone is online, and everyone is buying things online. The days of waiting in line at the store are gone. With the click of a button, you can have anything you want to be delivered to your doorstep. This is the future of shopping, and it will only get bigger. This exact future also applies to purchasing electronic goods such as LCDs, FPD TVs, FPS, and other monitors, screens, and displays you can only imagine.
In this article, we are going to answer some of the most common questions about the issues connected to the future of LCD/ FPD industry, helping companies become aware of the technology available for flat screen recycling.
LCD market growth
Let's talk about the numbers. Based on some previous research, the LCD/ FPD industry was forecast to grow at a CAGR of over 7% during 2019-2024. Meanwhile in 2020 the global TFT-LCD display panel market already attained a value of USD 164 billion. It is expected that LCD market will grow even further in the 2022-2027 with a CAGR of 5.2% and is projected to reach a value of USD 223 billion by 2026.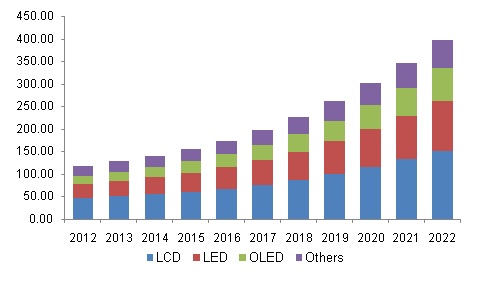 As you can see from the market data, the rising demand for LCD/ FPD TVs and monitors, growing demand for OLED TVs, and rising demand for flexible displays. With the ever-increasing popularity of mobile devices, the need for LCDs and FPDs will only increase. Even if the falling prices of LCD panels may somehow appear as if they are holding back market growth, quite the opposite is happening.
And yet, in the future, not only will you be able to purchase more advanced electronic goods, but you will be able to purchase them at a fraction of the cost. LCDs, FPD TVs, FPS, and other monitors, screens, and displays will become more affordable and advanced.
The LCD/ FPD problem
The LCD/ FPD problem is not a new issue. It's been around for decades and has been growing steadily ever since, affecting more people and places in recent years.
In the past, we threw out old TVs, monitors, and laptops to quickly learn it was a bad idea. Innovative recycling companies have started collecting discarded electronics from households to resell them for profit. For some time, this was an effective way to address the problem of disposing of household e-waste safely and reducing environmental pollution caused by electronic devices thrown away in an uncontrolled way.
With time passing, technology rapidly improved, and LCD screens became more common. The consumer expected a higher quality of picture closed in fancy frames of thin, liquid screens. However, with the increase in quality came a new hazard.
The world discovered that LCDs, FPD TVs, FPS, and other flat screens contain hazardous materials. If these materials are disposed of inappropriately, they can harm the environment and our health.
To face this issue, new recycling programmes have been set up in many cities across the globe. Initially, the purpose of these programmes was to allow people to drop old TVs, LCDs, FPDs, and monitors at collection points where they could be stored appropriately. From there, e-waste was collected by contractors for reuse or recycling.
Although recycling programmes are available, the growing number of produced electronic devices creates more e-waste than these programmes manage. On top of that, many people don't want to buy second-hand electronics because of brand new, and affordable TV's now available on the market.  In most cases, the disposal of old screens and monitors is costly and inefficient.
The results are heart breaking. More and more recycling facilities are facing yet other problems. There is not enough space to store the amount of collected e-waste. On the other hand, e-waste recycling companies are struggling to keep up with the demand for recycling and the toxic residue left behind. The recycling centres aren't technologically advanced to reduce the environmental pollution caused by these devices.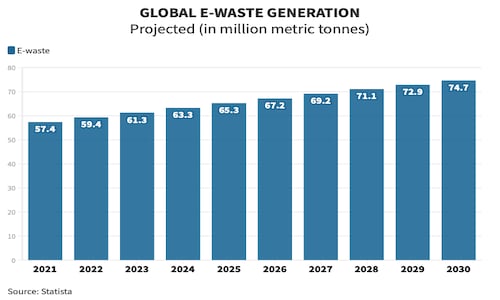 LCD and FPD recycling companies are in a dilemma regarding recycling LCD screens and flat panel displays. There are two ways to recycle these screens – the first is to break them down into plastics, glass, and metal. The second way is to use microwaves and high-voltage electric fields to decompose the screens, which are more expensive and environmentally friendly.
But is it that simple? Unfortunately, not. Liquid crystals are currently used in various applications ranging from small electronic displays such as digital watches to 100-inch TV Liquid Crystal Displays (LCDs). According to NDP Display Search global, the total TV LCD sales in 2010 were 250 million, of which more than 110 million units were CCFL LCDs. Since many LCDs have a short lifespan of 7-8 years, many are made redundant each year and require proper disposal.
Recycling LCD panels poses a particular problem for producers of electrical and electronic equipment (EEE) and their designated recyclers. The WEEE Directive, which all EU member states must transpose into national legislation and implement, stipulates that components containing mercury and liquid crystals must be removed from LCDs on disposal. WEEE recycling companies currently need help to comply with these directives.
The majority of recyclers use a manual disassembly (85% according to a WEEE Forum Survey 2017) process to remove the mercury lighting tubes and liquid crystal panel, which is a slow and labour-intensive process as LCD displays have a complex internal structure that consists of layers of circuit boards, mounting frames, enclosure cells, fluorescent tubes, liquid crystal glass panel, filter sheets and typically between 100 to 150 screws. Table 1 illustrates the breakdown of the main components and their typical or average weight percentage within an LCD display. The value of such components as recyclable materials is estimated as an average at approx. €3.60 per the LCD display.
All this variation means that a typical 32-inch LCD TV takes 8-15 minutes to be separated manually by one worker. This translates to 4-7 LCDs per hour dismantled per worker. The difficulty of LCD disassembly combined with high costs has led to a tendency to stockpile LCDs at recycling facilities across Europe.
Securing the Future
There is a business continuity from the rapid decline of CRTs with new opportunities arising in an evolving market, e.g., LCD recycling and accessing Critical Raw Materials (CRMs) such as indium.
Most manufacturers are following Apple's lead as "a closed-loop supply chain," meaning they want to recover more elements from the devices than before and feed them back into their supply chain. There are elements in LCDs that are now considered critical raw materials. There will be a huge push to recover these in the coming years as the price and/or restricted access to these raw materials increases.
Given these market objectives, Votechnik has built a machine called ALR4000 © for fully automated high-speed recycling of LCDs enabling capitalization of this particular market opportunity. This first machine is designed to process CCFL- LCDs, while the technology is designed to be adaptable to LEDs. See https://votechnik.com/alr4000/ for more information.